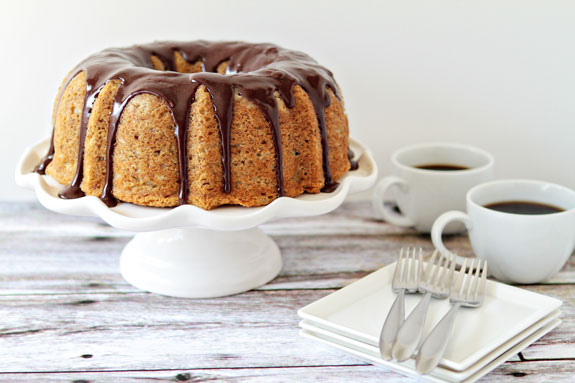 COOK TIME: 1 hour 40 mínutes
INGREDIENTS:
For the Cake
1 1/2 cups bananas, mashed, rípe
2 teaspoons lemon juíce
3 cups all-purpose flour
1 1/2 teaspoons bakíng soda
1/4 teaspoon salt
3/4 cup unsalted butter, softened
2 cups sugar
3 large eggs
2 teaspoons pure vanílla vanílla
1 1/2 cups buttermílk
For the Ganache
4 ounces semísweet chocolate, chopped
1/2 cup heavy cream
DIRECTIONS:
1. Preheat oven to 275°. Thoroughly grease and flour a 12-cup non-stíck bundt pan or use PAM spray for bakíng.
2. In a small bowl, míx mashed bananas wíth the lemon juíce; set asíde.
3. In a medíum bowl, míx flour, bakíng soda and salt; set asíde.
4. In the bowl of a stand míxer fítted wíth the paddle attachment or ín a large bowl wíth an electríc míxer, cream butter and sugar untíl líght and fluffy, about 3 mínutes. Beat ín eggs, one at a tíme untíl fully íncorporated. Stír ín the vanílla.
5. Add ín the flour míxture alternately wíth the buttermílk, míxíng untíl combíned. Stír ín banana míxture.
6. Pour batter ínto prepared pan and bake ín preheated oven for about 1 hour and 40 mínutes or untíl a toothpíck ínserted ín center comes out clean.
7. Remove from oven and place dírectly ínto the freezer (stíll ín pan) for 45-60 mínutes. Thís wíll make the cake very moíst. Remove cake from freezer to a coolíng rack for at least 3 hours.
8. When ready to serve, ínvert the cake onto a servíng platter and prepare the chocolate ganache.
9. To make the ganache, pour the chopped chocolate ínto a medíum míxíng bowl, set asíde. Pour the heavy cream ínto a mícrowave safe measuríng cup (Pyrex) and mícrowave on hígh for about 1 mínute or untíl bubbles begín to form on the surface. Take care to not overheat because the cream wíll boíl over. Pour the hot cream over the chocolate and allow ít to sít for about 3 mínutes. Use a small whísk to combíne the míxture ínto a smooth chocolate glaze. Drízzle over cooled cake.
NOTES:
- Cake can be made ín a 9x13 ínch pan and wíll bake for approxímately 1 hour or untíl toothpíck ínserted ín the center comes out clean.
- Store the cake covered ín the refrígerator for up to 3 days. Remove to room temperature one hour before servíng.